Membership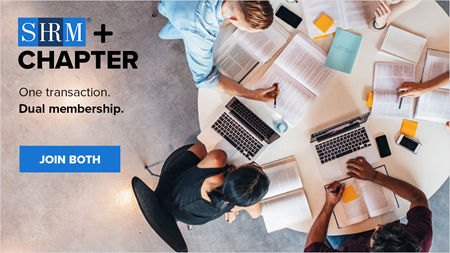 Thank you for your interest in joining MEI-SHRM of Illinois. We are an affiliate of the Society for Human Resource Management. Whether you are new to the HR field or have many years of experience, we are a local starting point for networking, information, professional development and continued support of excellence in Human Resources.
Membership in a SHRM-affiliated chapter means access to a local network of professionals, as well as professional development programs. Members benefit in many ways through their association with our organization. Participation in MEI-SHRM provides:
Exposure to other HR professionals and companies revealing how other organizations handle various human resource situations, procedures, policies;
Access to a network of professionals and specialists providing HR information that might otherwise be difficult and/or expensive to obtain;
Opportunity to develop relationships and contacts in other companies to share information on HR concerns;
Availability of local professional development opportunities to improve your competence;
Access to current best practices to make your organization more efficient, increase employee commitment, and help line managers carry out business strategy;
Availability of up-to-date information on pending legislation that may impact your company's operations;
Opportunity to develop leadership skills by taking on a volunteer leadership role in a local chapter;
Access to monthly educational sessions and HRCI certification credits; and
Development of a reputation and credentials in the HR field through your involvement in a local chapter.
Benefits of SHRM Membership
Personalized Content
Legislative Resources & Updates
Member Community
Free Webcasts
Discounts on SHRM Events and Educational Offerings
Thousands of HR-Related Resources and More!​
For additional information contact us at: metroeastilshrm@gmail.com
LOCAL CHAPTER MEMBERSHIP IS FREE FOR 2024!
NOTE: Chapter membership expires at the same time as your current SHRM membership, regardless of enrollment date. Any applicable Chapter dues will be prorated based on the number of months remaining on your current SHRM membership.
*This chapter is a 100% membership chapter, which means you must also be a member of the national SHRM organization (www.shrm.org).