Membership Resources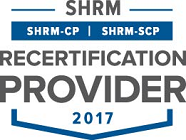 MEI-SHRM strives to provide a great value for the cost of membership. Included are many benefits and resources, most of which are included in your membership fee. If you would like to make a suggestion for inclusion of additional resources on this page please feel free to share your ideas through the "Contact Us" tab.
This is your organization help make it the best it can be! MEI-SHRM encourages HR professionals to pursue certification as a professional in the field of Human Resources.
KEY BENEFITS WITH SHRM'S NEW CERTIFICATIONS SHRM-CP AND SHRM-SCP
Earning your SHRM-CP or SHRM-SCP credential makes you a recognized expert and leader in the HR field—and a valuable asset to your organization, keeping you and your organization more competitive in today's economy. This professional distinction sets you apart from your colleagues, proving your high level of knowledge and skills.
FOCUS ON YOU
SHRM-CP and SHRM-SCP are your credentials, based on the current HR landscape. This Certification is 100% focused on the competencies and knowledge all HR professionals need to lead in today's business community.
UNIVERSAL SKILLS & RECOGNITION
SHRM Certified Professional (SHRM-CP) and SHRM Senior Certified Professional (SHRM-SCP) are based on a single, comprehensive SHRM Body of Competency and Knowledge™ (SHRM BoCK™) and are relevant worldwide, giving professionals the recognition and flexibility to use their knowledge, skills and competencies anywhere their career takes them.
COMPETENCY- & KNOWLEDGE- BASED
SHRM-CP and SHRM-SCP tests HR competencies as well as knowledge, and their application, to ensure the professional's ability to demonstrate what they know, and what they can do with their knowledge in the variety of situations they encounter.
DEVELOPED WITH EMPLOYERS IN MIND
SHRM-CP and SHRM-SCP are based on in-depth research focused on —and backed by— global employers and business leaders. They reflect what HR practitioners need to know to be leaders in their organizations and in the profession.
EXPANDED ELIGIBILITY AND INCLUSIVITY
SHRM-CP and SHRM-SCP recognize diversity in the HR profession. The eligibility requirements minimize barriers to participation and reflect current HR roles. The exam windows provide accessibility and flexibility for all eligible professionals worldwide. In addition, the new exam is affordable, making certification attainable by more professionals.
UNIVERSALLY APPLICABLE
SHRM believes that HR certification must be as inclusive and diverse as the profession itself. The SHRM certification is applicable across industries, geographic borders, job responsibilities and career levels.
GLOBALLY RECOGNIZED
By creating a consistent certification path for HR professionals around the world, SHRM will deliver a new global standard. To ensure worldwide recognition of the new certification, SHRM anticipates seeking accreditation of the new certification program from the American National Standards Institute (ANSI) and/or the National Commission for Certifying Agencies (NCCA).
​UPCOMING PROGRAMS at Lewis & Clark Community College N.O. Nelson Campus, 600 Troy Road, Edwardsville, Illinois
SHRM-CP and SHRM-SCP Preparation Class
HRCI Certification
PHR/SPHR Professional Certification Information
The Human Resources Certification Institute (HRCI) offers Professional in Human Resources (PHR) and Senior Professional in Human Resources (SPHR) certification examinations during two month testing "windows" in the spring and fall of each year. You have the flexibility of choosing the date you will take the exam.
Consult HRCI for all the details including upcoming testing windows of time and locations where you can take the exam. The HRCI web site has a link for a downloadable PHR/SPHR Handbook. This book has been updated to include the new test standards. Click here to access the Handbook. http://www.hrci.org/
Recertification
To retain the PHR, SPHR or GPHR designations, HRCI requires all certificants to recertify every three years either by accumulating 60 educational hours through continuing education, instruction, on-the-job experience, research and publishing, leadership activities, or membership in a national or international professional organization such as the Society for Human Resource Management (SHRM), or by retaking the examination ("recertification by examination"). For more information about how to recertify by retaking the exam, please refer to the most recent version of the GPHR or PHR and SPHR Certification Handbook.
It is recommended that you become aware of the unique recertification requirements that apply to PHR and SPHR recertification. DON'T WAIT! You are encouraged to begin accumulating credit hours as soon as you have become certified or recertified.
Programs
All of MEI-SHRM monthly programs will be submitted for both SHRM and HRCI recertification credit. Please contact contact.meishrm@gmail.com for more information.
Articles/Links
We are always looking for resources for our members. If you have a link you would like to see on this list, click here. Thanks for your help!
Department of Labor
Governor
State Council
State Legislature
Government
ADA Home Page
Bureau of Labor Statistics
Department of Labor
EEOC Homepage
OSHA Homepage
Office of Personnel Management
U.S. Department of Labor